Students working with the ASU REACH Institute have access to a rich offering of training, research, professional development, and other learning opportunities. Students are invited to attend numerous colloquia and seminar series on topics ranging from the use of cross-culturally valid assessment tools to building careers in research settings. Students benefit from our culture of collaboration and enthusiasm. Experts in the field of the design, implementation, evaluation, and dissemination of prevention programs guide student research and answer questions as they arise. In addition to formal mentorship, students are encouraged to seek help and information from faculty and peers as their interests dictate. Research faculty and student offices are housed in the same building, allowing for frequent interaction.
As a student based in the ASU REACH Institute, you can tackle a wide range of projects with real world applications. For example, you may receive training in the implementation of an intervention, conduct focus groups to learn more about community organizations' needs, collect data on how schools or outside therapist are using our prevention programs, or study the impact these programs have on children and families across multiple settings. Students at the ASU REACH Institute benefit also from the T32 training program in prevention research, which offers pre-doctoral as well as post-doctoral fellowships. Additionally, students can work with research methodologists and quantitative psychologists at the cutting-edge of study design and analysis.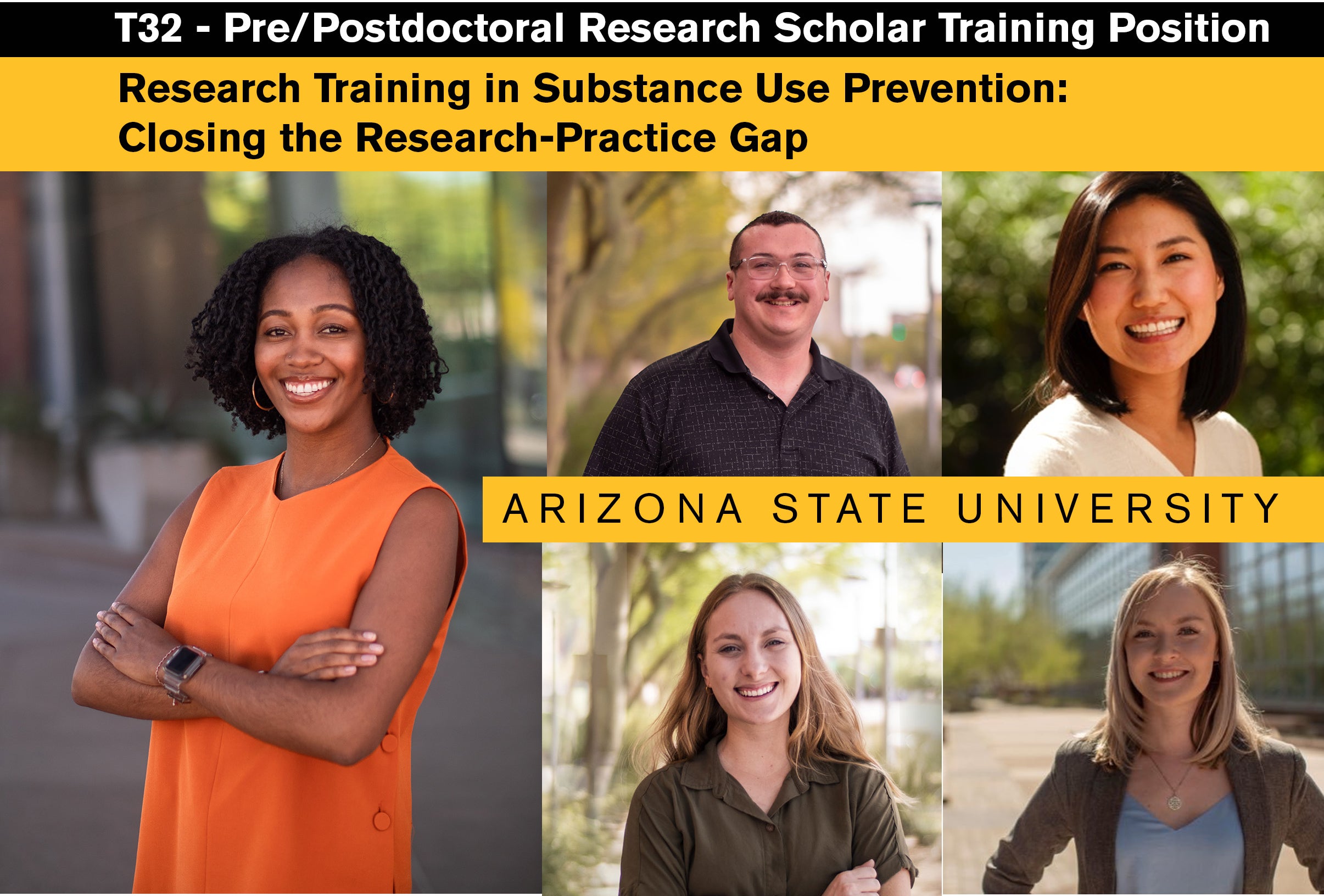 Research Training in Primary Prevention (T32)
Reducing the Research - Practice Gap
The T-32 Training Program is for a two-year period and is delivered through individually-tailored programs of coursework in drug abuse and implementation science, as well as mentored research experience.
Funded by the National Institute on Drug Abuse (NIDA), our training program prepares pre-doctoral and post-doctoral fellows to conduct research that reduces the gap between real-world practice and evidence-based interventions targeting drug abuse prevention. Through a combination of coursework and research apprenticeships with faculty from multiple disciplines, fellows receive training in drug abuse, and implementation science. Trainees conduct studies of the methods that improve the successful uptake of evidence-based preventive interventions into real-world practice. Training faculty have particular expertise in research with ethnic minority populations and in the development of innovative quantitative methods.
Click here to learn more
Our T32 Administrative Faculty and Advisors
Directors: Drs. Nancy Gonzales and Cady Berkel
Steering Committee: Drs. Laurie Chassin (chair), Irwin Sandler, Abi Gewirtz, Sarah Lindstrom Johnson, Armando Pina